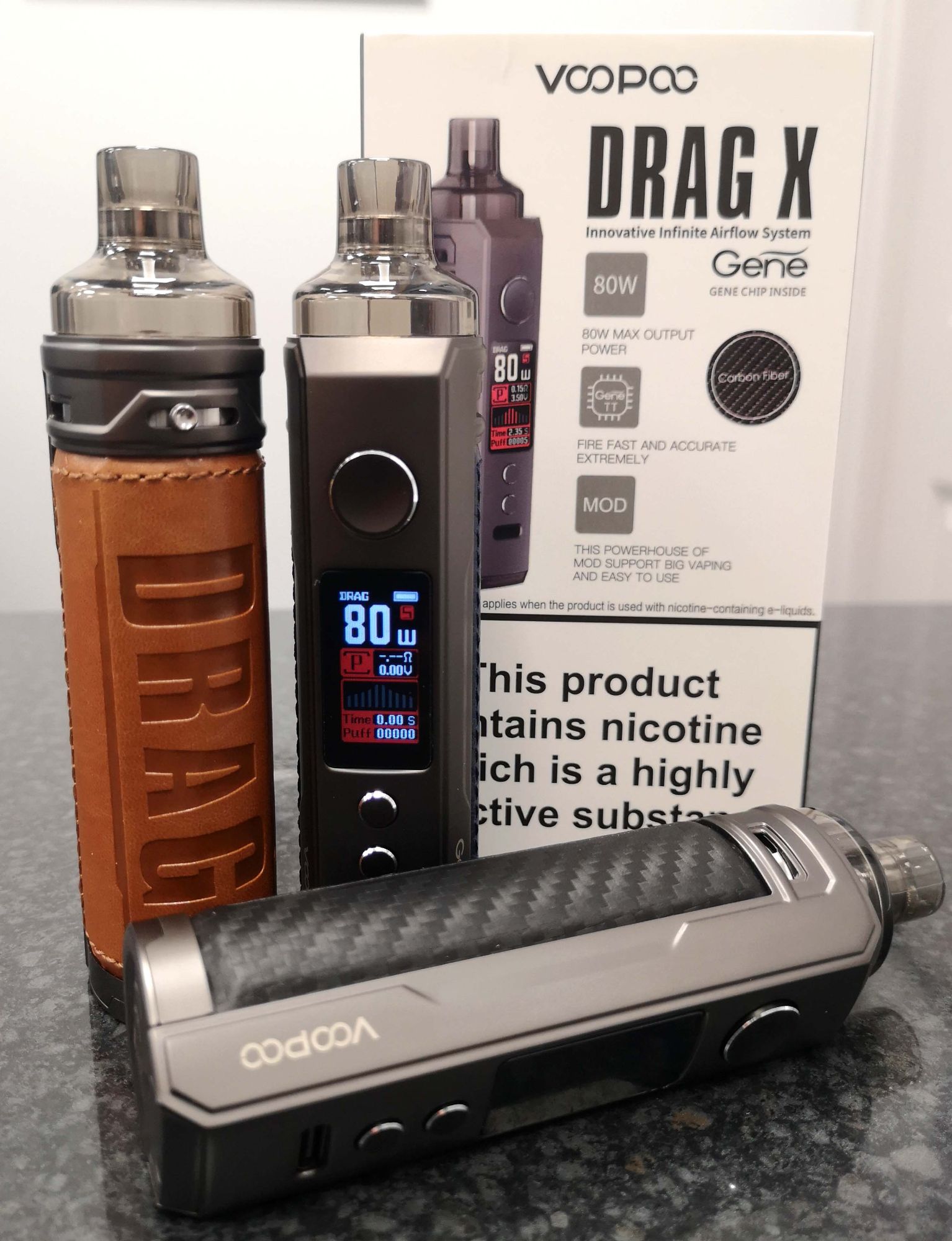 The VOOPOO DRAG pod mod is packed with a host of features and settings. The X and S can handle cloud chasing with ease, whilst still remaining accessible to newer vapers.
Both the DRAG X and S utilise the GENE.TT chip, which can activate a fast instant vape in 0.001s. With a soft leather grip and a USB-C charging port for a more efficient charge. (Charging dock highly recommened for rechargables i.e. 18650's)
The DRAG pod is designed for ease of use. The pods are compatible with varying Voopoo pod devices offering a strong magnetic connection, bottom filling rubber plug and push-fit PnP coils that make replacements quick and easy. Multiple ohm options are available for that desired vape.
Output Power: X, 5-80W (S, 5-60w)
Resistance: 0.1~3.0Ω
PnP Coil compatible
Battery Capacity: X - Single 18650(Sold separately) S - intergrated 2500mah
Material: Alloy+Leather
Dimensions: X - 124 x 33 x 28mm, S - 115 x 33 x 28 mm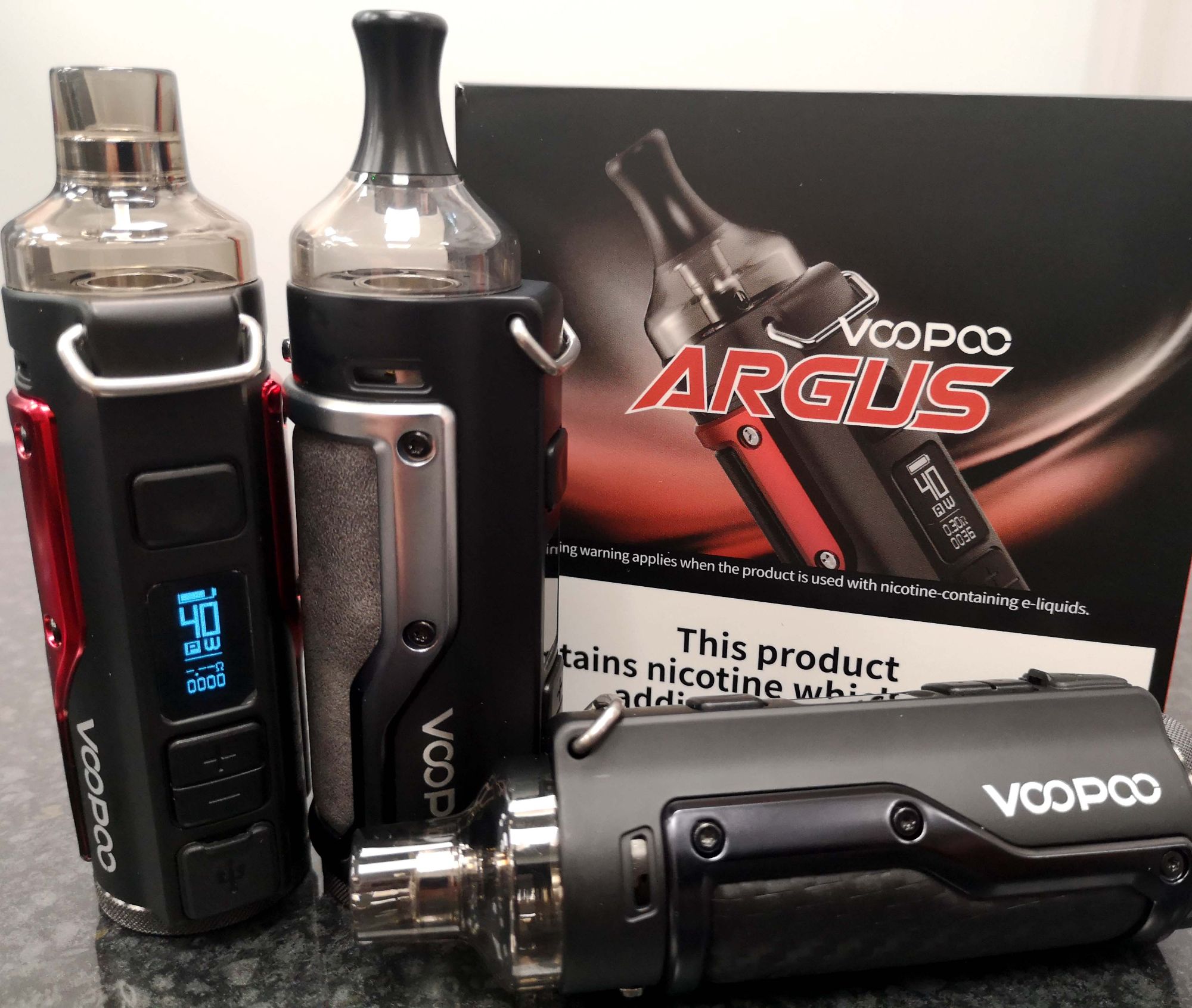 Double Pod, Double Happiness. The Argus pod mod offers dual pod compatibility which suit both half-direct to lung (H-DL) and mouth to lung (MTL) vaping. A compact device with perfect fusion of metal and leather creates an aesthetic and robust device and with the use of the intelligent GENE.AI chip, can identify a PnP coil and provide a 5-40 watt power adjustment.
Output Power: 5 - 40 watts
Resistance: 0.3ohm-3.0ohm
PnP Coil compatible
Battery Capacity: Built-in 1500mAh (5V/1A Type-C charging.)
Material: Alloy and leather
Dimensions: 108/107 x 33 x 30mm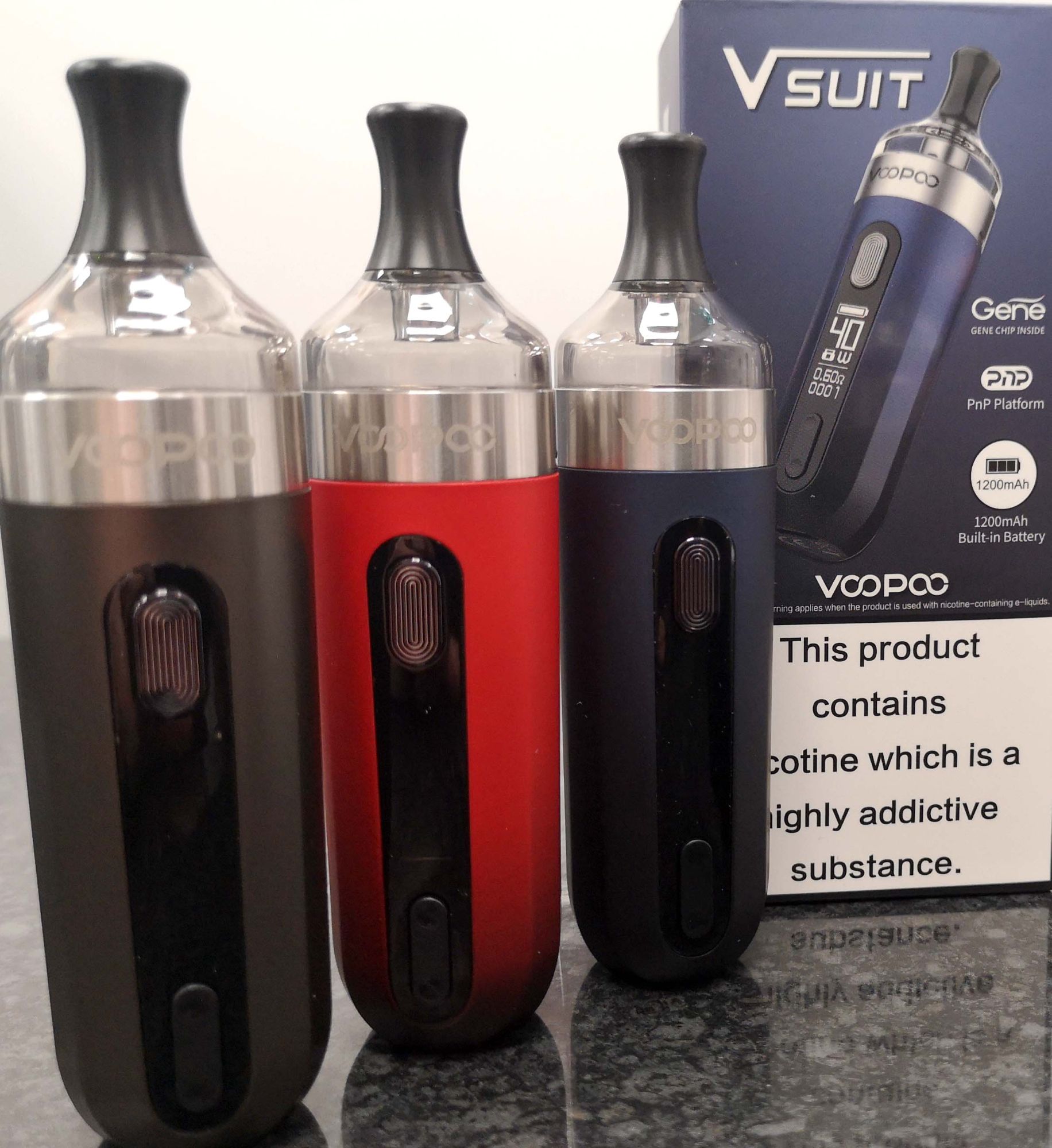 The VooPoo V Suit vape kit is a compact starter POD kit that is easy to use. Recommended for vapers of all experience levels, it is capable of a 40W max output and features variable wattage, giving you the ability to find your perfect vape. Powered by a built-in 1200mAh battery, you'll experience up to a full day of vaping. Even though this kit is fitted with a large battery and GENE chipset, it still manages to remain small enough to fit into your pocket or bag - for convenient vaping on the go.
5 - 40W Output Range
Resistance Range: 0.3-3.0ohm
Refillable 2ml Pods
MTL Vaping
PnP Coil compatible
Battery Capacity: Built-In 1200mAh (5V, 1 Amp charging, Type C)
Material: Plastic
Dimensions: 100 x 26mm
Merging a pod with a pen-style vaporizer makes the PodStick the most user-friendly device, with the abilities of sub-ohm and MTL vaping. The top fill feature at the top is taken to the next level with the sliding top cover, giving you the easiest, cleanest and safest filling system. Having the option of CCELL and Mesh Pods, you can choose to get a lung hit or a smooth mouth to lung vape. The 5-level battery indicator keeps you in the know for when it's time to charge up!
Top sliding fill system
Patented CCELL Pod (1.3Ω , 9w-12.5w)
Meshed Pod (0.6Ω , 17w-22w)
3 Power Modes
5 Levels Battery Display
Battery Capacity: Built-in 900mAh (5V, 1Amp charging)
Material: PCTG, aluminum
Dimensions: 111 x 22 x 18mm